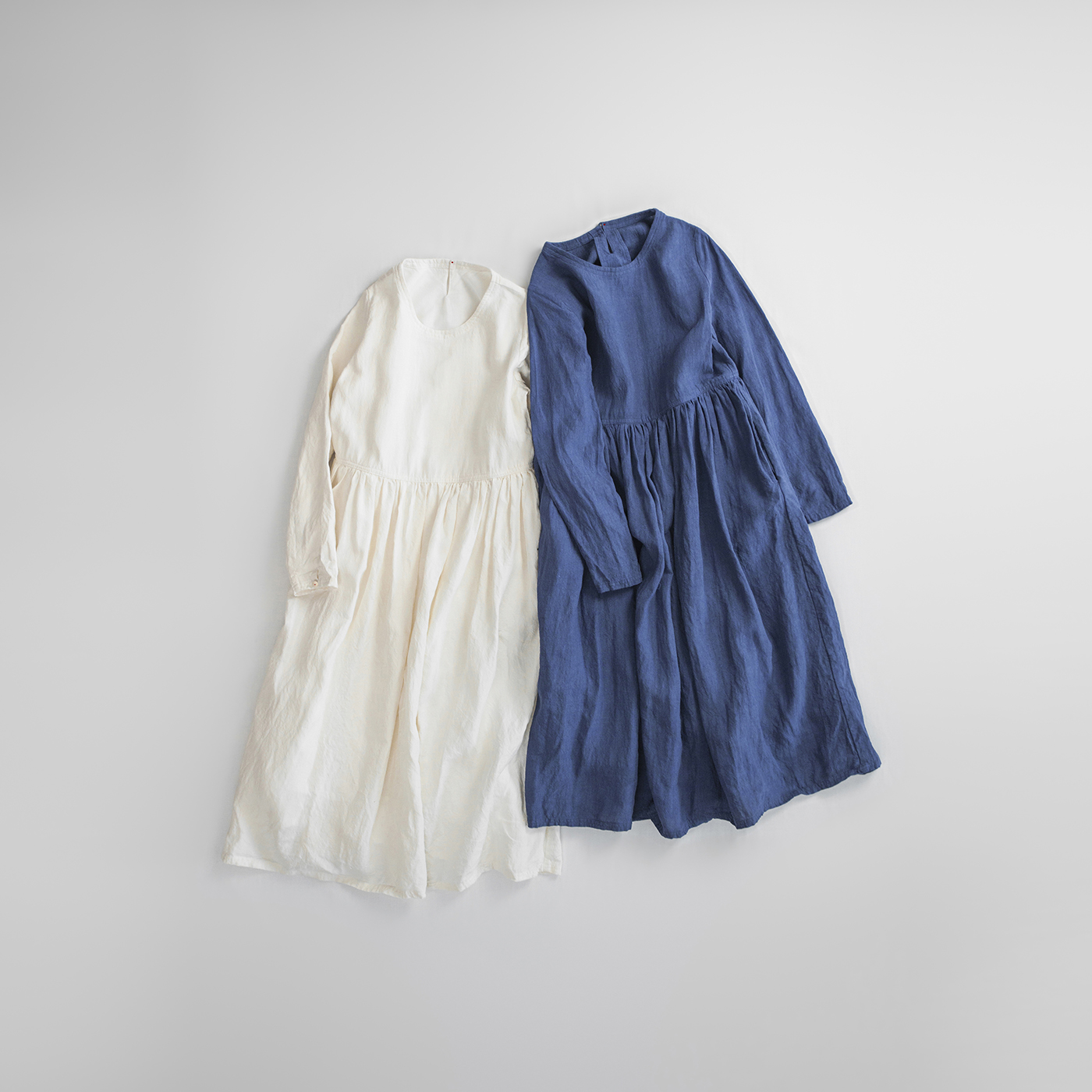 Rooney Dress (Long Slv)
衣服介紹 ﹣ Rooney Dress (Long Slv)

直身上幅,微寬中腰,腰間細密縐褶,裙擺自然垂墜,穿著舒適自在。兩側口袋,象牙白色全身裡布,藍色亦有下身底裙。純棉裡布,質感同樣薄身輕柔。
Straight bodice and mid waist with fine gathers, allowing the dress to drape naturally, creating a comfortable shape to wear. Inseam pockets can be found on each side of dress. Lightweight and smooth pure cotton cloth is used for lining. Fully lined for ivory color and half lined for navy.
* 此款式另有 背心 Sleeveless Version
布料介紹 ﹣ 日光晾曬亞麻布(40支) Cloth 4H

以 40 支數的亞麻紗線織成的平織布,與製作方式相同的 Cloth 6B 相比,質感相對厚實。布料以繁複工序人手製作,少量生產,並無利用機械施加壓力,因此質感自然舒適。在長時間染色後,經過日光晾曬,布料呈現自然的皺摺起伏觸感。由於每日只能日曬晾乾約 80 米布匹,而日曬光線強度每日不同,每匹布的色彩各有不同紋路,造出來的衣服亦更獨特。
Cloth 4H is made with a plain weave in 40 count linen yarn. It is thicker and stronger than Cloth 6B, which is made in 60 count linen yarn. The fabric is produced manually in small quantity through various complicated procedures. No mechanical finishing is used as to keep the naturalness of the fabric texture. After long time of dyeing and being dried under sunlight, the cloth is naturally and beautifully wrinkled. Only about 80 meters of cloth can be sun-dried everyday, and with different intensity of sunlight, each cloth has its own texture and brightness in color, adding uniqueness to each and every clothing piece.
:. Price ﹣ HK$1520
:. Item Code ﹣ 1102F-4H
:. Color ﹣ Ivory|Blue
:. Size ﹣ XS|S|M|L
:. Made in ﹣ Hong Kong
:. Fabric ﹣ Linen 100%
:. Cloth Code ﹣ 4H
:. Cloth Origin ﹣ Japan
:. Measurement (cm)
Shoulder 34/35/36/38

Bust 92/95/100/103

Sleeves 55/56/58/60

Waist 80/83/88/92

Hip 116/120/124/128

Length 108/110/112/114

Armhole depth 19/20/22/24
:. Other Related Items .: